Join us for an evening with 2017 MacArthur Genius Grant fellow Nikole Hannah-Jones. Ms. Hannah-Jones, a staff writer for the New York Times Magazine, will present her work reporting on school resegregation across the country and join us for a conversation led by Wendi C. Thomas, founder of MLK50: Justice Through Journalism, moderated by Tami Sawyer.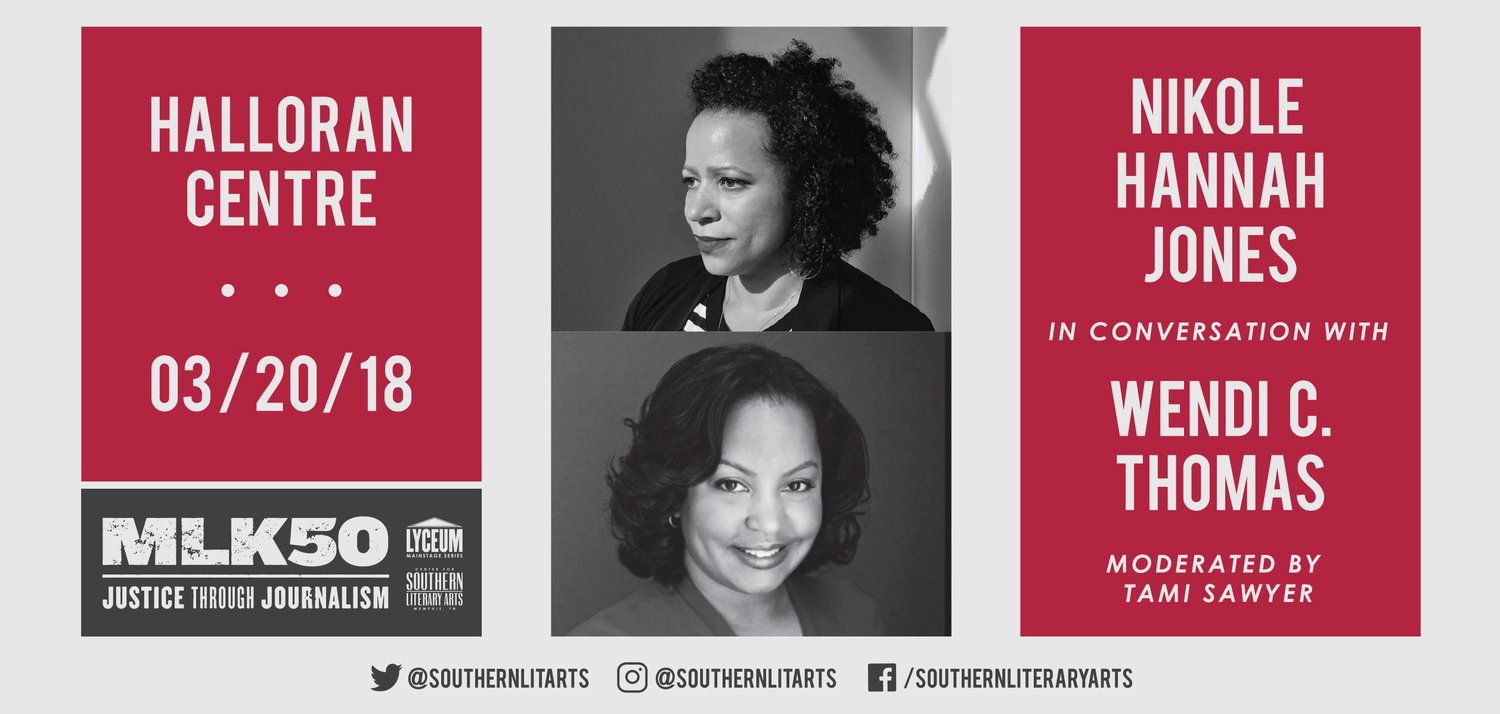 Nikole Hannah-Jones was named a 2017 MacArthur Genius Grant fellow for "reshaping national conversations around education reform" and for her reporting on racial resegregation in our schools. She is a staff writer for the New York Times Magazine and founder of the Ida B. Wells Society for Investigative Reporting, which strives to increase the number of reporters and editors of color.
In 2016, she was awarded a Peabody Award and George Polk Award for radio reporting for her This American Life story, "The Problem We All Live With." Her New York Times Magazine cover story on choosing a school for her daughter in a segregated city was the recipient of the 2017 National Magazine Award. She is currently at work on a book on school segregation, The Problem We All Live With, to be published by the One World imprint of Penguin Random House.
Wendi C. Thomas is the editor and publisher of MLK50: Justice Through Journalism, a yearlong, nonprofit reporting project about economic justice. A senior writing fellow for the Center for Community Change, Thomas is also a contributor to The Undefeated and The Christian Science Monitor. She is a 2016 Harvard Nieman fellow and from 2003 to 2014, she was a columnist at The Commercial Appeal. Previously she was an editor at The Charlotte Observer, an editor and reporter at The Tennessean in Nashville and a reporter at The Indianapolis Star.
Tami Sawyer is a political leader, speaker, writer & activist for social justice and educational equity. She is a well-regarded diversity practitioner who works daily for equity and inclusion in many realms.
MLK50: Justice Through Journalism is a yearlong nonprofit reporting project. It's focused on economic justice, inspired by Dr. Martin Luther King Jr. and timed to the 50th anniversary of his assassination. Find us online at mlk50.com and follow us on Twitter at @MLK50Memphis.
LYCEUM MAINSTAGE SERIES
The Lyceum Mainstage Series is a program of the Center for Southern Literary Arts, which presents special evenings with world-renowned, change-making writers and authors from around the world.