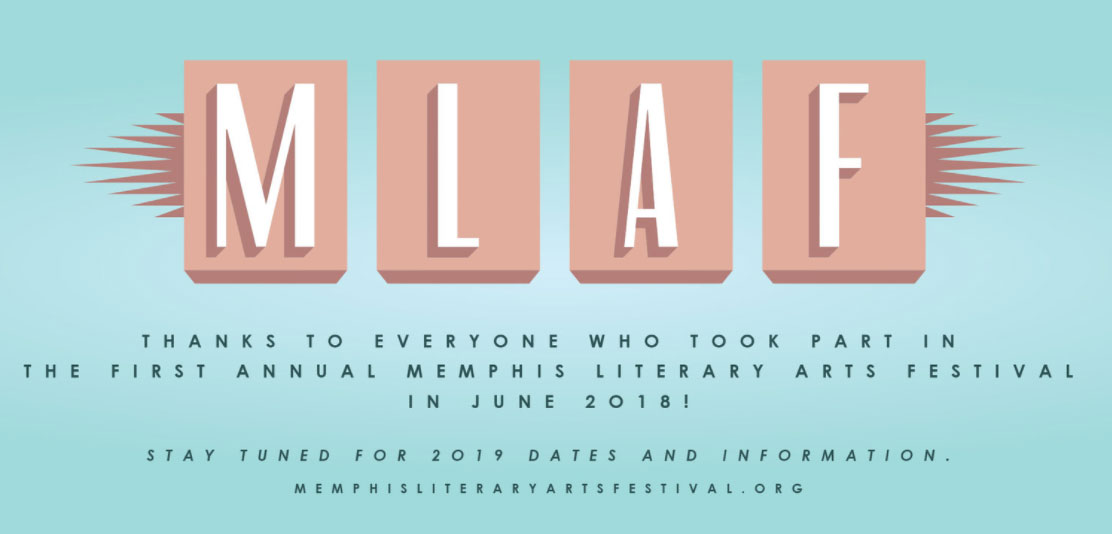 WE FEATURED MORE THAN 30 ARTISTS & WRITERS FROM MEMPHIS, THE REGION, & THE WORLD:
SIPHNE AAYE
HANIF ABDURRAQIB
EKPE ABIOTO
KENNETH WAYNE ALEXANDER
COURTNEY ALEXANDER
ELOISA AMEZCUA
GEORGE ARNETT
CHANELLE BENZ
DESTINY O. BIRDSONG
YASMIN BOAKYE
ALICE BOLIN
KRISTIN CHEERS
ADDIE CITCHENS
HEATHER DOBBINS
ALICE FAYE DUNCAN
JAMEY HATLEY
MINDA HONEY
RAVI HOWARD
CHARLES L. HUGHES
S. JAE-JONES
BARB JOHNSON
JENNY JOHNSON
LAURA FAITH KEBEDE
KIESE LAYMON
SARAH NICOLE LEMON
SARA A. LEWIS
DANIELLE L. LITTLEFIELD
CAROLYN MATTHEWS
ANDREA MORALES
DANIEL JOSÉ OLDER
CHRISTINA OLIVARES
KAITLYN SAGE PATTERSON
MARCO PAVÉ
ELLE PERRY
ANN POWERS
ASHANTÉ M. REESE
ZANDRIA F. ROBINSON
MAURICE CARLOS RUFFIN
TALIBAH SAFIYA
SAM SAX
RION AMILCAR SCOTT
MYCHAL DENZEL SMITH
DOREEN ST FÉLIX
ADIA VICTORIA
MICAELA WATTS
TUNDE WEY
CRYSTAL WILKINSON
DR. COOKIE WOOLNER
RAVEN WRITES
Festival program
FRIDAY, JUNE 15
DINNER AT THE HIBISCUS SALON
AN #MLAF BENEFIT
PREMIERE PALACE BALLROOM
TICKETED EVENT
6PM – 9PM
featuring
D.Arthur, chef
Kiese Laymon, author
Adia Victoria, musician
Andrea Morales, photographer
$85 GENERAL ADMISSION
$250 VIP

SATURDAY,
JUNE 16
FESTIVAL DAY
FREE & OPEN TO THE PUBLIC
9AM – 5PM
Main Festival Program
Readings, conversations, and performances at
Premiere Palace Ballroom,
Marshall Arts Gallery, High Cotton Brewery,
and Riverdeep Church.
+
#MLAF Street Fair
Hosted by Literacy Mid-South
Marshall Avenue between S. Orleans Street & Monroe Extended
7:30pm – 10pm
Official #MLAF After Party
Premiere Palace
with DJ Siphne Aaye
The finale to the CSLA's inaugural year.
First 100 drinks on us.
PRESENTED WITH
The #MLAF is presented in partnership with Literacy Mid-South, hosts of the original Mid-South Book Festival (2014-2016). #MLAF18 is made possible by the following friends, supporters, and media partners:


PRESS
Read the press release for the inaugural Memphis Literary Arts Festival #MLAF.
For media inquiries, contact Alyson Sinclair at [email protected].
WHO WE ARE
Founded and presented by the Center for Southern Literary Arts, the first annual Memphis Literary Arts Festival (#MLAF) will take place June 15-16 and strives to be a world-class festival celebrating storytelling and the city's unique arts, culture, and historical legacies. #MLAF is proud to make its home in the historic Edge District, an intersection of industry and culture since the city's earliest days. By featuring renowned, award-winning authors from across the globe alongside exceptional local writers, artists, and civic leaders, we celebrate those folks most marginalized by region, race, class, gender, sexuality, ability or citizenship.
The CSLA was founded in 2017 by writers & native Memphians Jamey Hatley, Molly Rose Quinn, and Zandria F. Robinson.
WHERE IS MEMPHIS?
We get this question a lot. Memphis is 90 minutes from Oxford, MS; three hours from Nashville, TN; mid-way across the east and west, south and midwest; at the intersection of old south and new south, rural and urban; on the bluffs of the Mississippi River at the corner where Tennessee, Mississippi, and Arkansas meet.
Or, as we like to say, at the center of everything.